NEXYAD always looking at suveys about ADAS and driverless cars market ... Here is a relevant study about Automotive Advanced Driver Assistance Systems Market (2015-2025), by ReportBuyer.com
The Next Step Towards Autonomous, Self-Driving & Driverless Cars
LONDON, May 12, 2015 /PRNewswire/ -- Report Details

In many ways, advanced driver assistance systems (ADAS) are the first step on the road to semi-autonomous or fully-autonomous self-driving and driverless vehicles. In 2015, Park Assistance, Surround-View Cameras, and Adaptive Cruise Control applications dominate the ADAS market; however, the penetration into passenger cars is relatively low despite the increasing rate of installations into the premium car segment manufacturers.
Often these are fitted in isolation, and even where multiple systems are fitted in a vehicle, great care is taken to ensure that these systems are perceived only as assisting the driver (who must remain fully alert) rather than taking over his role. As the number and abilities of these systems increases, the situation will move further along a continuum from driver assistance to in effect driver substitution, meaning that the driver would no longer be required to be alert and instead the onus would fall on the vehicle to warn the driver when his input was required, bringing him back to a state of full alertness
As Automated Parking, Adaptive Cruise Control and other ADAS End-User Applications expand from the high-end to mid-range car segment and the NHTSA announces its rear-view camera mandate in North America, our focus is on identifying leading companies within the ADAS Market in 2015 and why they prevail. Visiongain assesses that it is necessary to establish a deep focus on the leading Suppliers of ADAS as these companies are the leading manufacturers of the sensors, the chipsets and in general the technology required for ADAS End-User Applications.
Visiongain has calculated that the global automotive ADAS market will reach $21.7bn in 2015 (...)
To read more : http://www.prnewswire.com/news-releases/automotive-advanced-driver-assistance-systems-adas-market-2015-2025-300082032.html
NEXYAD used this kind of surveys in order to target their own development : making sure that the software modules developed by NEXYAD will be more and more needed with time. Not only because they bring performance, robustness, and reliability, but also because they take into account from
the start of conception, new functionalities (that are not seen as needed yet for some of them, but will become a "must have" in one or two years when
people see the problems brought by new ADAS), safety (intrinsic redundancy, vote process), ...
NEXYAD modules are under shifting into electronic devices of a Tier One Company, and also into smartphones :
. RoadNex : road detection, not only white markings detection, "true" road detection : with or without marking (click the pictures)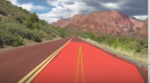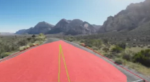 Road detection uses two different approaches : the borders of the road (see the thin red lines showing the borders) and the surface of the road (see
the painted surface). Those detection are NOT filtered because their stability measurement may be used to estimate reliability : at this stage, they are
"low level detection modules" (under intergration into the NEXYAD artificial intelligence environment). NEXYAD is also integrating a road markings
detection then RoadNex will soon detects roads using 3 different approaches : redundancy should bring more robustness and reliability to ADAS
and autonomous cars architects.
. ObstaNex : obstacle detection (detects every obstacle), may be used for pedestrian detection, for instance.


Obstacle detection uses a camera plus gyro and accelero data. Every area of the image that has a vertical dimension OR (inclusive) an intrinsic speed
is detected as "Obstacle". Pedestrians are very easy to detect with such a module (but also cars, trees, etc ...). It is possible (and easy) to use a data
fusion algorithm BEFORE tracking (with a radar or a lidar), so this module can be used in several ways.

. VisiNex : visibility measurement, usefull first to measure visibility (for instance, driving behaviour monitoring should need this input), and second to bring
more reliability to camera-based detection systems (knowing visibility score that make them fail).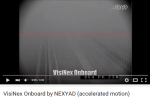 Visibility measurement is available for fog, rain, mist, night, etc ... This is a key technology developed by NEXYAD, based on their experience of
military applications (Johnson criteria etc ...). It brings of course a score of visility (the Visual Quality Score, invented by NEXYAD), but also every
thresholds that make camera-based detections algorithms fail (it may be systems from NEXYAD, but also systems from MOBILEYE or any other
artificial vision - based detection modules provider).
. SafetyNex : driving behaviour monitoriring in a road safety point of view (useful for insurance companies, but also for all companies involved in
self-driving car development).
SafetyNex uses information about :
- infrastructure instrinsic danger characteristics
- car situation (way of driving, speed, ...)
- location of the car on infrastructure,
- weather conditions at this location,
- driver state (drowsiness, hypovigilance, ...),
Then SafetyNex applies an artificial intelligence data fusion NEXYAD module in order to estimate a risk correlated to accident (proven method, developed
during more than 15 years through 4 collaborative French research programs : 2 PREDIT, and 2 FUI).
Here are 4 driving behaviours : "cool" (so Eco) and Safe, "cool" but not Safe, Sportive (brutal) but Safe, Brutal and not Safe ...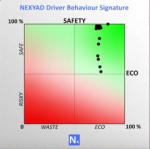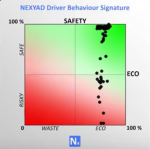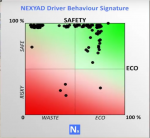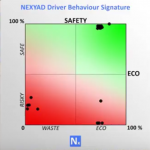 This module is THE ultimate driver monitoring system for Insurance Companies "pay how you drive" business model, and one can see that is may be
useful for driverless car too : risk taken by the robot, risk taken during transition from autonomous driving to manual driving.